This post was guest-blogged by Laura "Dirtbunny" G.
You can follow her on her blog Dirtbunny.net or contact her on Twitter @Dirtbunny1.
---
After a week of storms, power outages, interweb deprivation, and inexplicable tactical decisions from Cesare Prandelli (Thiago Motta, the sex machine? really?), I have barely caught up with the Euro 2012 final. I'm at least a week behind in mercato news and JuventiKnows posts, but my heart and loins are boiling over and I can no longer remain silent.
Uniformed as I am, I am compelled to report this:
Andrea Pirlo goes to 11
If you know Nigel Tufnel, then you know that no more needs to be said. If not, you must Google him right away. No wait, come back. Google him later. Let me 'splain.
If you're all the way at the top, where can you go from there? Where? If you need that extra push over the cliff, what do you do? That's Pirlo. He's got that extra little bit. That little pinch of kosher salt on your artichoke pizza. The smidge of lemon zest on your grilled asparagus. The drop of balsamic vinegar on your caramelized onions. All the stuff which makes him just that much better than everyone else.
Here are eight reasons why.
★ ★ ★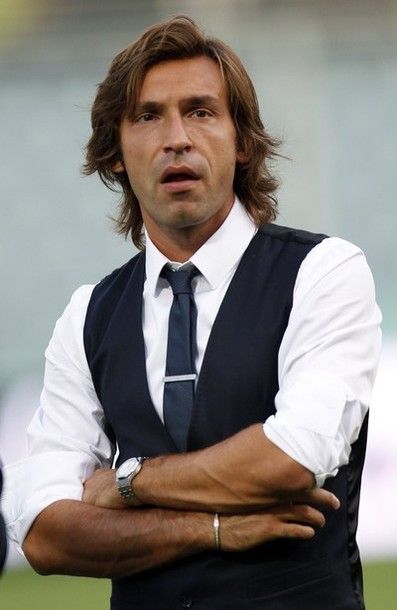 #1

There are the obvious reasons, of course. He knows how to wear clothes. He can pull off a suit vest and rolled-up shirt sleeves. If you don't think this is a difficult look, then close your eyes and imagine Giorgio Chiellini in this outfit. See my point? Also, he can wear man jewelry without calling his heterosexuality into question, and he has the taste to know that white metal is prettier than yellow metal any day.
★ ★ ★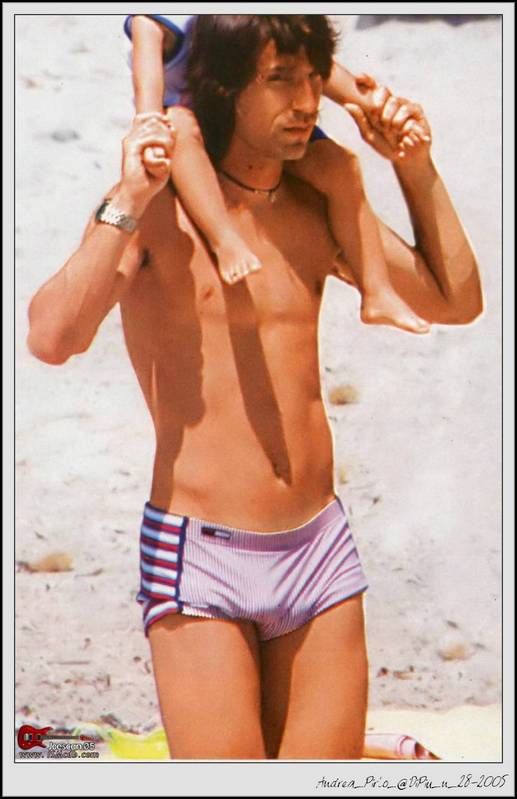 #2

He knows how to fill out the front of a pair of pants. Maybe some of you manly men haven't noticed, but us ladies have long known that Andrea's shorts often seem to be straining over bulging junk, not just of the kind you can see in still photos after the fact, but also on the pitch in real time, which is one of the reasons I sometimes lose focus in the middle of a match.
★ ★ ★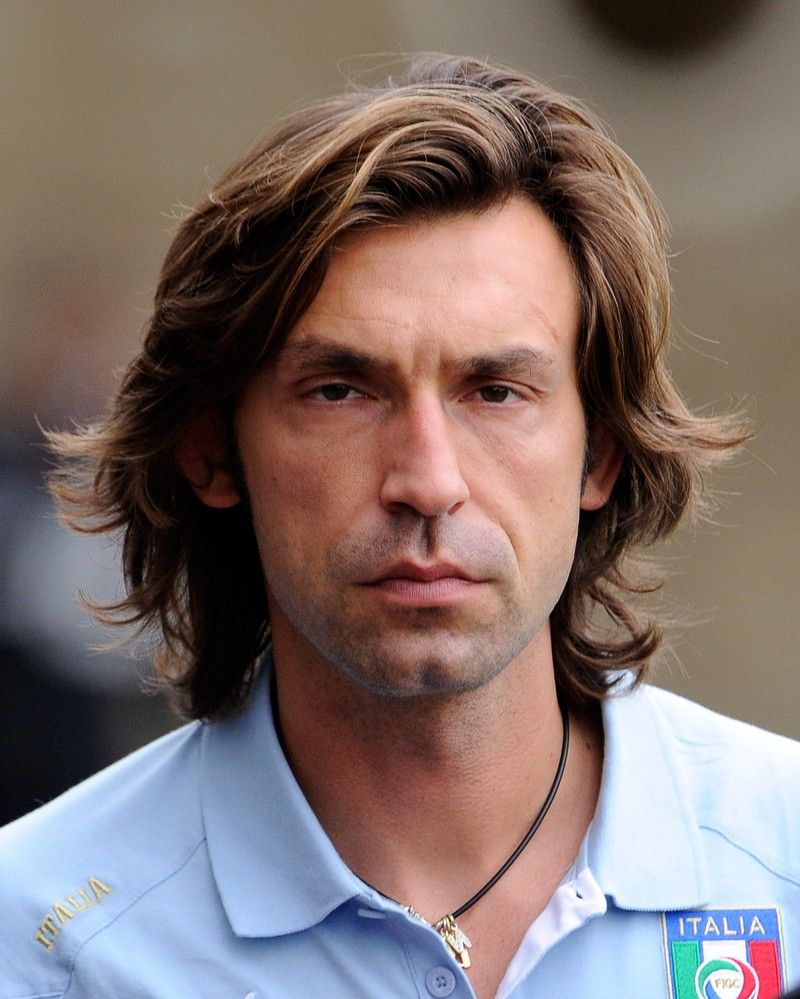 #3

Staying with the obvious, he has Championship Hair. It is hardly original to remark on this, but it's a critical fact. You'll never see him following the herd to adopt Marco Borriello's latest god-awful hairdo.
★ ★ ★
Please ignore the rossonero stripes because I have an important point to make here.
#4

He has mesmerizing charisma. I think this is supposed to be a photo of the other guy, who is some world-famous mega-dude currently featuring in American hamburger adverts in which people beg him to take his shirt off. Whatever. Other Guy is outshone here by the hypnotic power of Pirlo!mojo. Go ahead and try to look away.
★ ★ ★
#5

This is really difficult to say. Look at that face.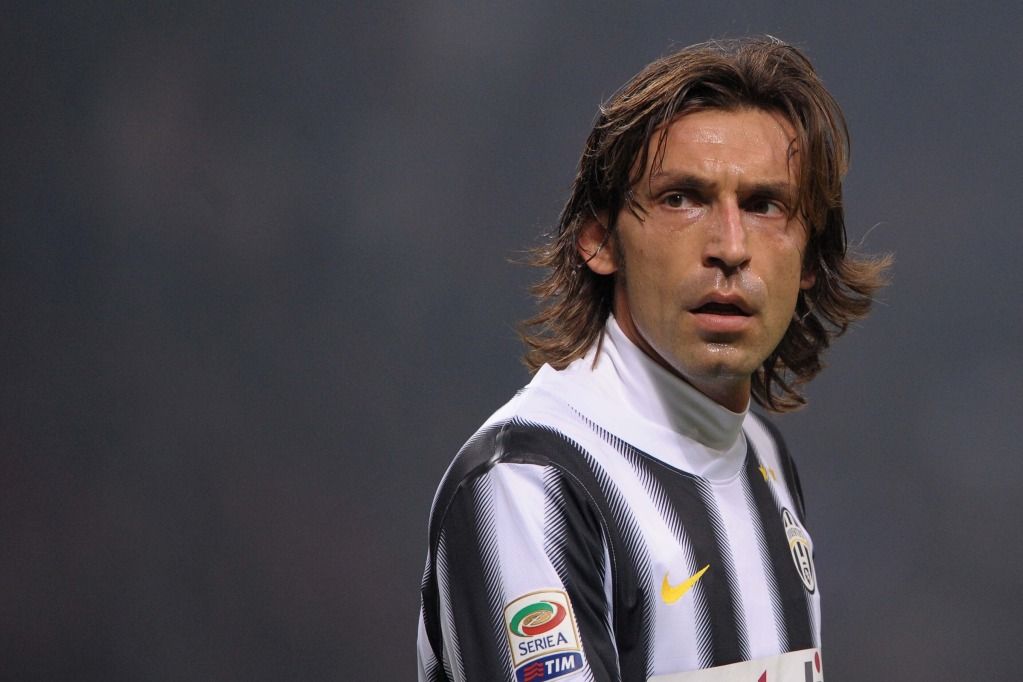 LOOK AT THAT FACE!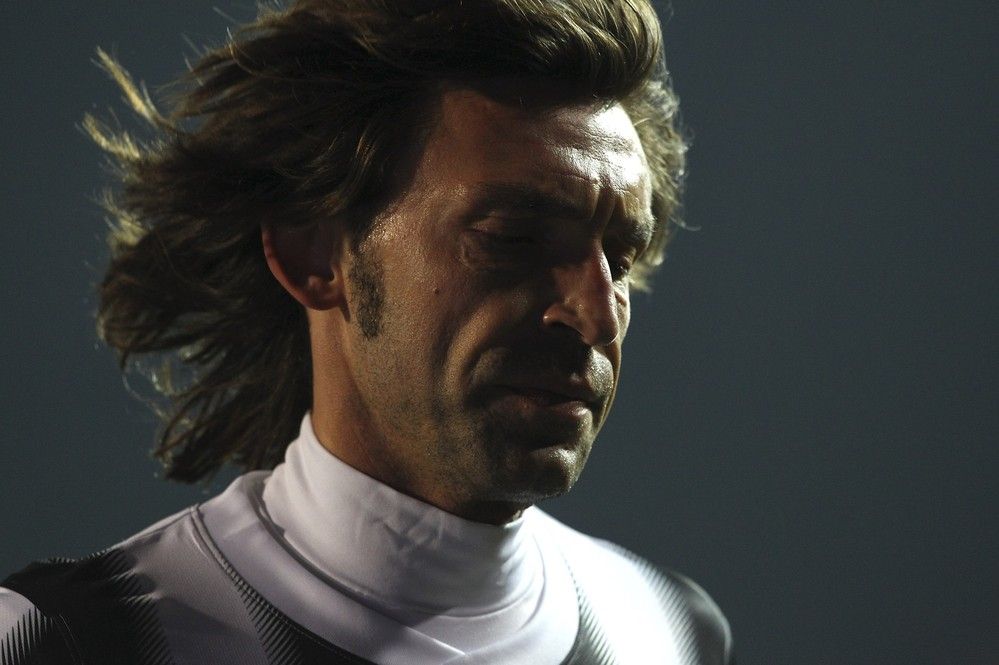 Fuck it. I've been trying to come up with a complete sentence to articulate this, and I have neither a noun nor a verb, but I do have this: LIKE. A. BOSS.
Holy SHIT Pirlo does everything like a boss. The only person who compares to Pirlo in cool is Gigi Buffon. Unlike Gigi's brand of fun-loving smiley cool, Andrea's cool is serious business. He has not a trace of goober or dork in him.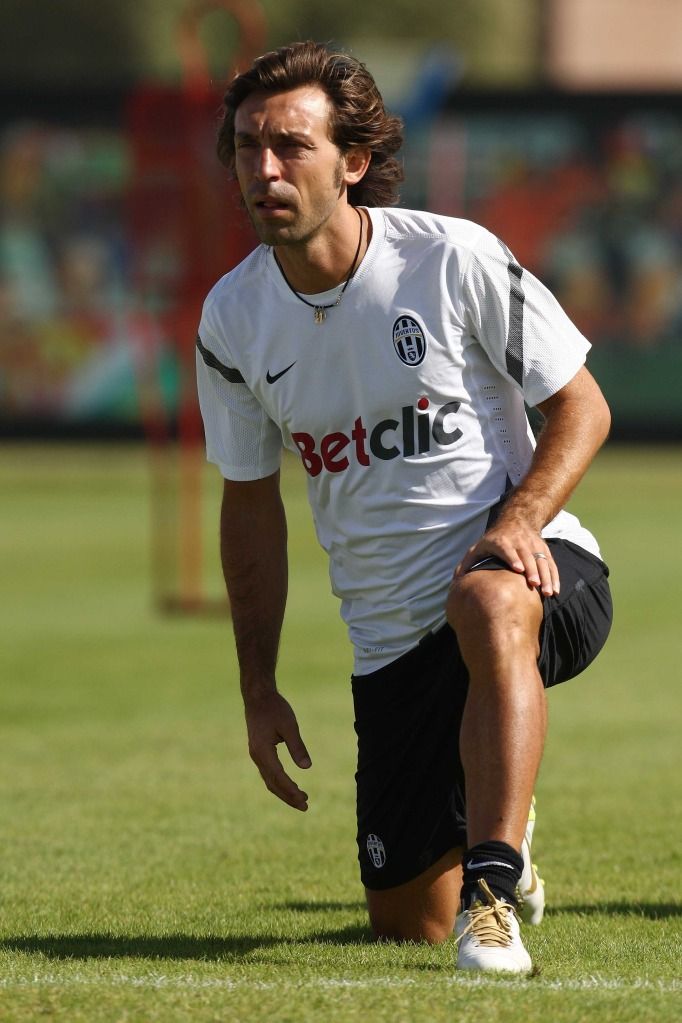 Those are not bad things. Chiello is about 80% goofball and I absolutely adore him.
But Andrea is classically cool. Icy cool.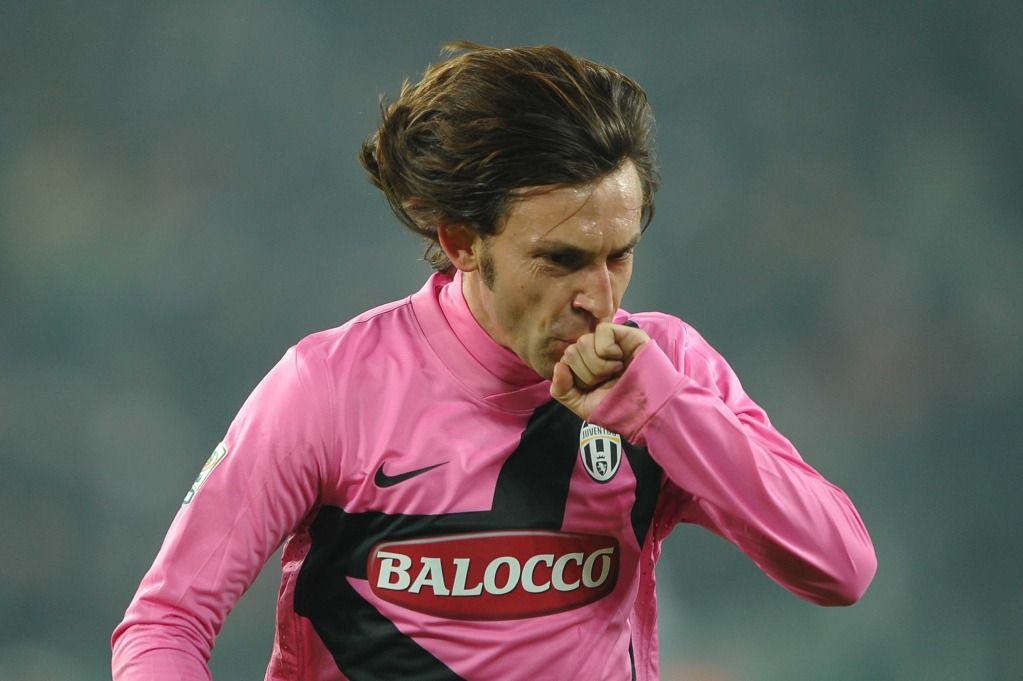 ★ ★ ★
#6

Andrea loves his wife and gets caught on film every summer behaving tenderly with his children. Gentlemen, do not underestimate this: Monogamy is a powerful element of sexiness.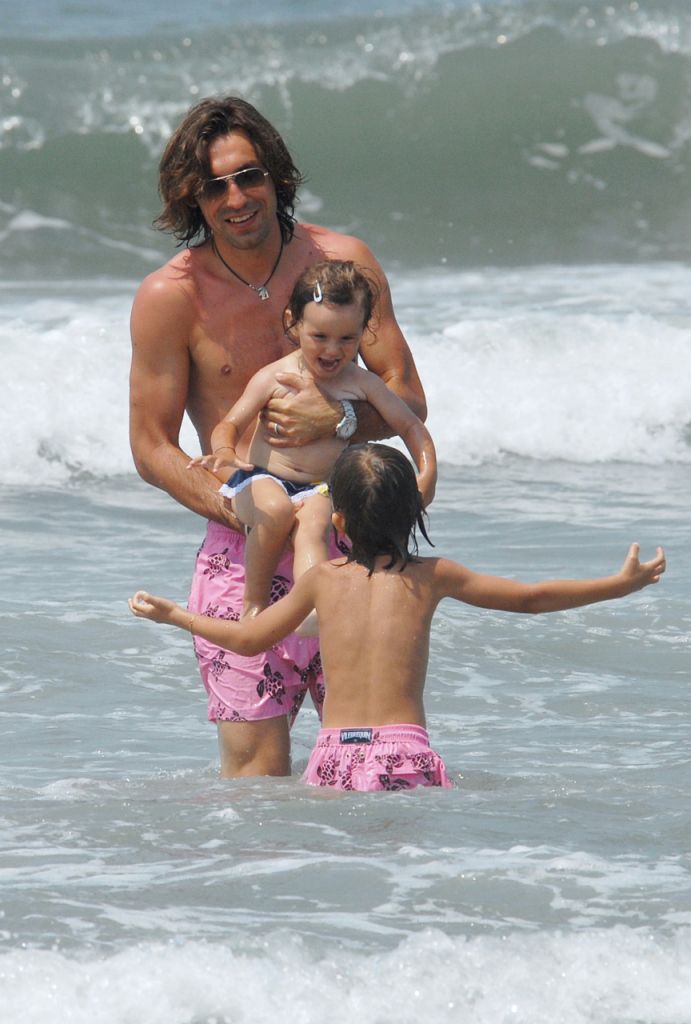 Anyone can sleep with a man-whore. Sleeping with someone like Borriello or Cassano is not much of an achievement. On the other hand, if you can get a devoted, monogamous man, then once you've got him, he's really yours. And THAT's something. *purrrrrr*
This photo, with the hott footballer, the babies, the hairy forearms, the leather necklace, and the adorable matching swimtrunks makes ovaries explode.
★ ★ ★
#7

He's awake. The fangirls used to call him "Sleepy" in reference to his somnolent playing style in recent years. Then he left Milan *sheds crocodile tears* and now he's awake. Did you think he was finished? I kinda did. This is what I had to say about him when Juve signed him last year:
I have to admit I am a bit ambivalent about this. Don't get me wrong. I love Andrea Pirlo. I have, after all, been carrying his love child since the Chelsea v. Milan match in Baltimore in July 2008 (like his father, li'l Sleepy can't be assed unless he damn well feels like it). I'm not happy about his tendency to get disturbingly bad haircuts every few years, but that's not the problem.

Here's the problem. They say that we can't have both him and Albertino. It's a tough choice. They both have problem ears and grow their hair long to cover them. Albertino has more of his career ahead of him and already has decent chemistry with his co-mids. However, he's expensive and is never going to be as good as Sleepy was at his best. On the other hand, Sleepy is free. He's still capable of greatness, but he doesn't actually produce greatness as often as he used to. It would be nice if he could teach his secrets to one of the bbz so we could grow another regista for the future. However, please take a look at Milan and tell me which one of their remaining mids is the new regista. I'm not sure what that says about Pirlo's teaching abilities. Given, however, that I have exactly zero say in whether we keep Albertino or not, I might as well celebrate Sleepy's arrival. So: Hooray for Pirlo!
I was wrong. Gloriously, wonderfully wrong. Fabulously, amazingly wrong. This observation leads me to Corollary The First: Pirlo Makes Pundits Reveal How Stupid They Are About Italian Football.
Because Pirlo more or less went away during his last years at Milan, he was largely forgotten when he shocked and amazed the ESPN crew who called the recent Euro matches. The whole attitude was "Who's Pirlo? Wow. He's pretty good." Which allowed me to say the following:
"THAT'S RIGHT MOTHERFUCKER. IF YOU EVER GOT YOUR HEADS OUT OF JOHN TERRY'S BUTT AND LOOKED AT CALCIO IN THE REST OF THE WORLD WHERE THERE ARE ACTUAL TACTICS AND WHERE THE PLAYERS ARE WAY HOTTER THAN THEY ARE IN THE EPL THEN YOU WOULD KNOW THAT HIS NAME IS ANDREA PIRLO. HE'S A WORLD CHAMPION. HE'S THE REGISTA OF ALL REGISTAS AND HE POSITIVELY SET ITALY EN FUEGO ALL YEAR, YOU IGNORANT MORONS!"
I have a pretty quiet life, so screaming at the television and feeling superior to football pundits is one of my chief pleasures in life, so that was lots of fun for me. Thanks, Andrea.
Ignore the troll on the left and follow me to Corollary The Second: Pirlo Cares. Before this year, the above photo was the last documented instance of Andrea Pirlo Giving a Shit About Football. Everyone thought he was pretty much done and he showed no particular passion on the pitch.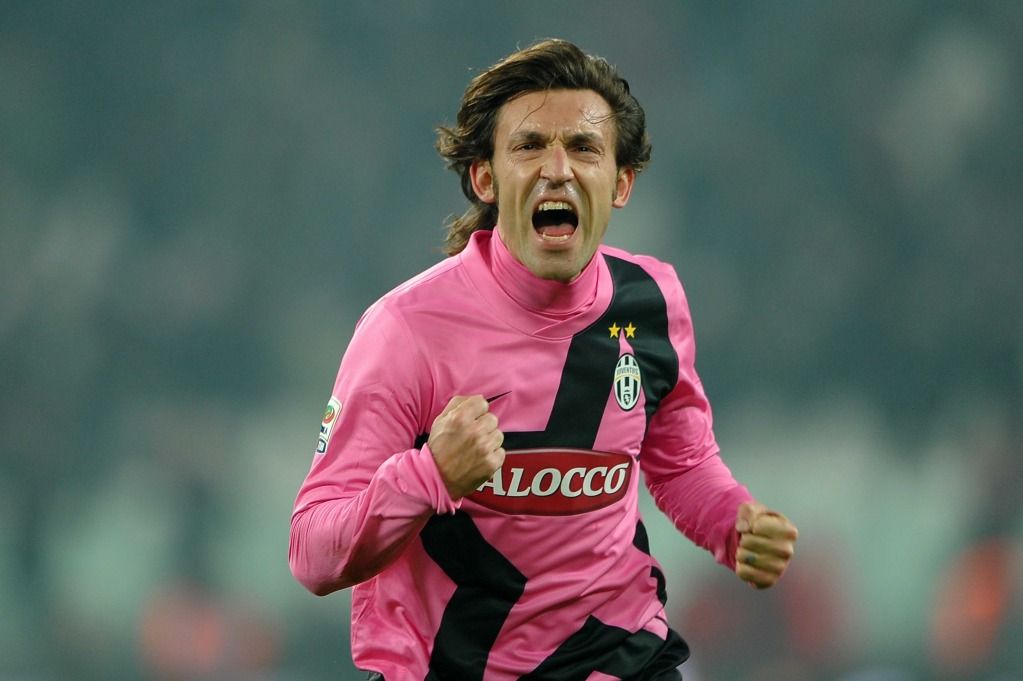 That's all changed now. He's fired up. FIRED UP. Bazinga.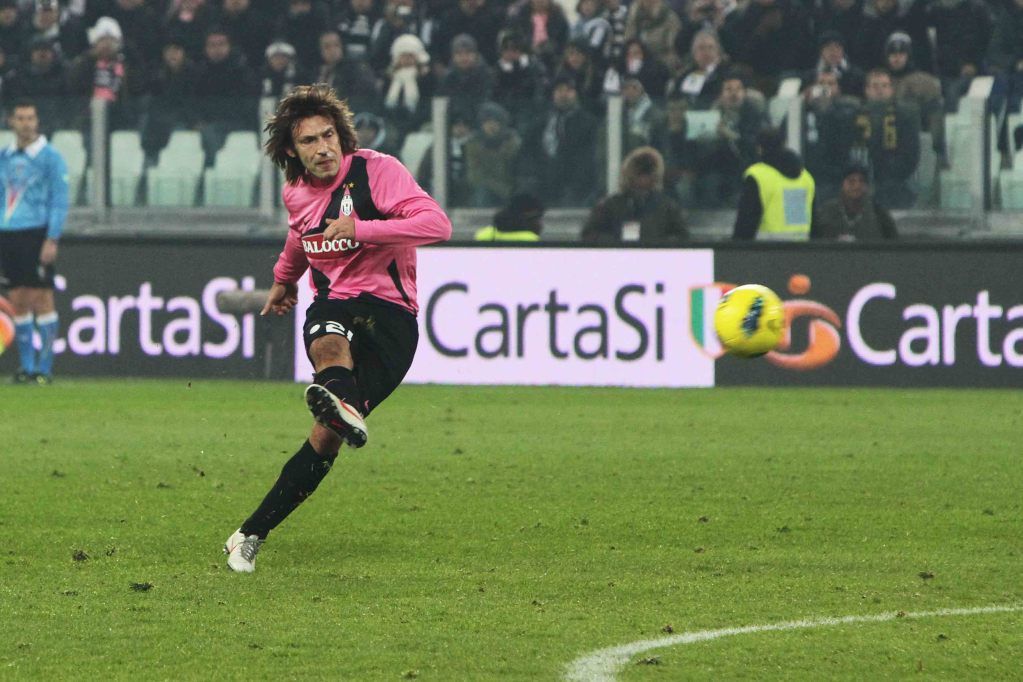 Corollary The Third: He's Back, Baby! His form is back. He is scoring the occasional goal again. His passing is exquisite. He runs. He defends. He goes up for headers. He never used to bother with any of that shit. I remember Tommy Smyth using a telestrator on a clip from a WC2010 qualifier to show just how pathetic and lazy Pirlo was in that match. The Laziest Player In The World, Tommy called him. Not any more, bitchez.
This last one is probably another corollary of #7, but it's important enough to stand on its own.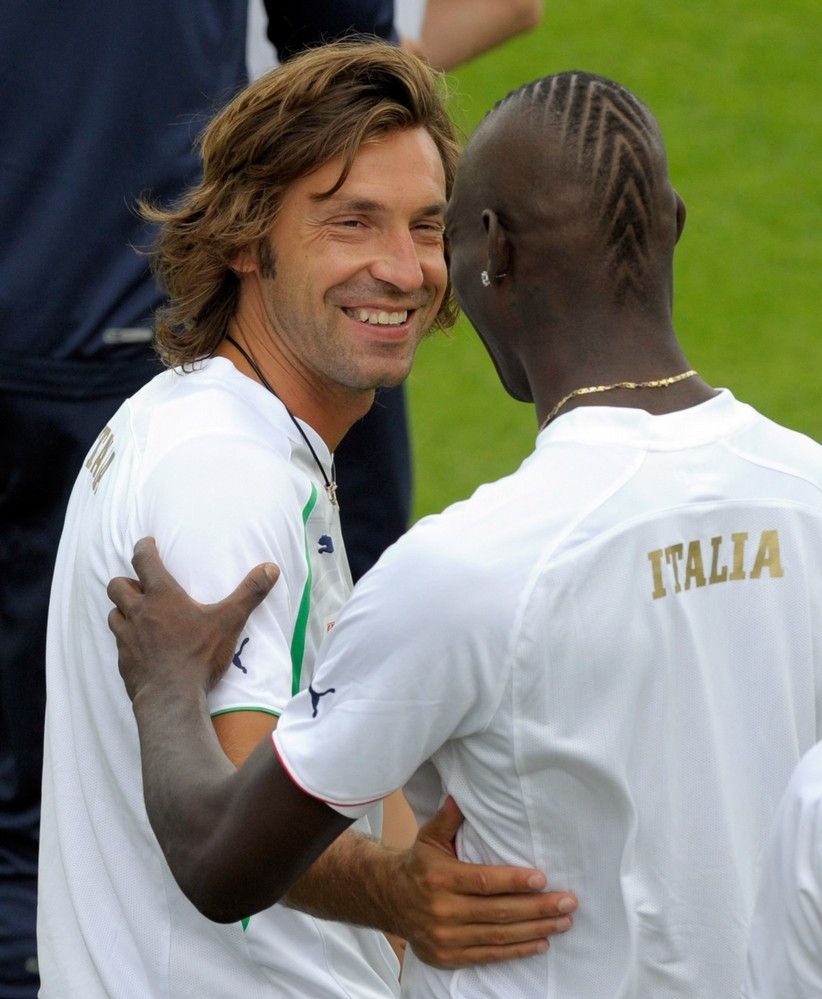 Quick tangent: Props to Mario for his Euro performance.
★ ★ ★
#8

Pirlo Gives Me Another Reason to Laugh At Berlusconi and Uncle Fester. They thought he was done. They let him go for free. For. FREE.

I may never stop laughing.
---
This post was powered by Fabian Cancellara and four cups of coffee.